Alumni Golf Outing Benefits Our Scholarship Fund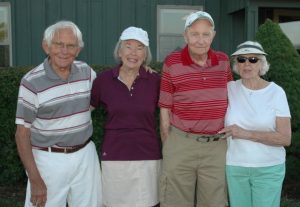 West High School Alumni Association Annual Golf Outing
Georgia Ward '70, Committee Chairperson
Started in 2007 by Bill Kern Jan. '60 and with the valuable assistance of co-planner Joe Ditrick June '60 and committee members Dean Potts 'Jan.59, Jack Crego Jan. '47 and Beverly Harrison '50, the outing's first home was the Phoenix Golf Links managed by Charlie Castle '63.
When Phoenix closed before the 2014 season, a search was made for an appropriate venue and Split Rock Golf Club in the Commercial Point/Orient area was selected. For the upcoming venue we will be at The Player's Club at Foxfire. Over the years and mainly through word-of-mouth, the number of participants has grown from 32 to 80+.
Generally played on the second or third Friday in August. Check the calendar for actual event date and rain date. "Casual and fun competition" is an apt description of the day's play — a modified scramble format with many skill prizes available; lunch, door prizes and raffles included. Players may enter as a foursome, threesome, pair or single and the only requirement is that at least one player in a group have some connection to West High School (alum, relative of an alum, past or present staff member or someone who has always been a fan of the Cowboys!).
Entry forms and further details can usually be found in the West High School Alumni newsletter, Facebook, and this web site. Click here for this year's details.
From its beginnings, the Alumni Outing's net proceeds have gone to the West High School Alumni Association's Scholarship Foundation. Starting at a modest net of $225, the event has grown every year and boasts a donated total in excess of $30,000 as of 2021. To keep up with annual net proceeds, refer to the West High Alumni "Occident" newsletter and the website's Event News.
The mission of the Foundation is to help deserving seniors with advanced education expenses. In addition to "paying it forward", the outing has provided a great venue for old friends to get together and have some laughs.
Visit our Logo Shop tab to support West High!