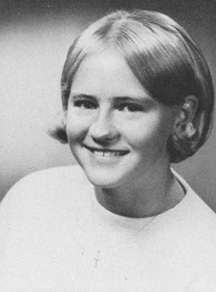 Georgia Martin Ward '70

What year did you graduate from West? Class of 1970; should have had our 50th reunion this summer but had to postpone it. Hoping for a WONDERFUL 51st!
What were you involved in at West while in high school? I was secretary of Student Council; a member of GAA, FTA, Debate Club Secretary, Y-Teens, Delphi, Jr & Sr Choirs, Gym Monitor, Class Teams and Class Teams Cheerleader. (GAA – Girls Athletic Assoc; FTA – Future Teachers of America). I was a joiner and remarkably busy. I also worked part time my Sophomore/Jr and Sr years.
What were some of your favorite classes? Why? I loved all my advanced math classes. I have always liked math and I had many great teachers. I also liked Sr English Lit and POD (Principles of Democracy) – again because I had interesting teachers. I never cared much for History in school, and now I wish I had. Now when I see a movie or read a book that deals with history, I actually get out my encyclopedias and read up on the event to see what is a fact and what is fiction!
Who were some of your favorite teachers? Do you have any specific memories of those teachers? Loved Mr. Zadrozny. He was young, probably right out of college and had funny stories to tell about his years in TBDBITL at OSU. Also loved Mr. Drury. I had him for calculus my Sr. year. We were a small class made up of mostly "brainiacs" (me, not so much). Mr. Drury put up with a lot from us; we were all close since we had many advanced classes together, so we had lots of joking and stories between us. One day Mr. Drury came into the room to find his desk hanging halfway out the window. The guys had lifted the desk up and had it hanging with 2 of its 4 legs out the window. He was not happy but took it pretty well!
What are you involved in with the Alumni Association? I have been a member of the Association for several years but have only been on the Board for 2 years. I have volunteered to work the concession stands at Football and Basketball games the last few years. I donated some food for the Summer Alumni Picnic last year and now serve as Secretary. Now that I am retired, I hope to get more involved – after this crazy COVID-19 THING is over! I pray!
What is your motivation for being involved with the Alumni Association? The thing that impressed me most about the WHSAA and what makes me want to do more, is finding out how much money the Association has given to West for scholarships and other needed items! I look at West today and cannot help but be depressed about the decline of the facilities, football field/track/stadium, marching band, drama department, etc. I know it is not much, but what the Association does for WHS is incredible and I look forward to helping contribute even more.
What would you like members to know about you personally and your family? I am the mother of incredible twin boys/men (42 years old). And the grandma of 2 wonderful boys (20 and 6.5 years old). My family has always been 1st in my life, and I was very much involved when my sons were in school and continued that devotion for the 20-year-old and now the six-year-old. Their schools are newer and are thriving, so I feel the need to devote more time and effort to my Alma Mater.
Any other ideas? I love all sports, long walks on the beach, the color blue, lilacs in the spring, yadda, yadda, yadda.